Vinyl Lined Pool Installers
Are you looking to install a family pool? You typically have three options when it comes to inground pools.
Vinyl-lined pools have been around for many years and have stood the test of time. There are many advantages to Vinyl lined pools.
Are less expensive than compared to concrete and fibreglass pools
Use fewer chemicals because of nonporous vinyl
Vinyl lining can be changed for complete surface restoration
These are only a few benefits of a vinyl-lined pool, and in this post, we'll talk about why one is a fantastic choice for your new family pool. If you're considering building a new vinyl pool, get in touch with Swimming Pool Pros right away, and we'll put you in touch with a competent vinyl-lined pool installer in your neighbourhood.
Vinyl Lined Pool installation procedure step by step
Design Phase – Because vinyl liner pools are totally customizable, customers have a lot of creative freedom when creating their ideal pool. During this initial consultation, one of our partners will come to your house to personally discuss your plans with you and assess the property where you intend to build the pool.
Outline the Pool Area for final approval – The first step of construction is to outline the pool where you intend to build it. This allows the client to visualize the pool area. If the client is happy with the location and size they continue with the project.
Digging of Pool – If the client approved the location and size. The digging of the pool will start. The excess ground will be shuttled away at the same time as the pool is being dug.
Building of walls – When the digging process is completed we will start to install the pool's walls. The walls are constructed from metal or plastic depending on the pool's design and the Pool company.
Plumbing and Electrical Installation – All plumbing and electrical installations surrounding the pool will now be installed.
Installation of Bondbeam and Casting of the floor – Once the plumbing and electrical are installed. All the sides are levelled perfectly, a bondbeam is cast from cement to keep everything perfectly level and lined up. Once the bondbeam has dried enough to hold walls in place a floor is cast made of a cement mixture to provide a solid bottom.
Pool surrounds installation – After the completion of the pool structure, the next step is to add some pool surrounds of choice. You can opt for decking, stone, or thermal concrete tiles with custom designs to suit any home.
Vinyl Liner Installation – Your custom liner will now be placed inside the pool and l; locked into place via the bead.
Filling the pool with Water – This is the step you have been waiting for. Your pool is now complete and the only thing left is to fill the pool with water and add appropriate chemicals.
Final Inspection and Cleanup – Once the pool is done and filled with water the pool will be inspected with the client. The site will then be cleared of any remaining soil and building waste. Leaving a happy client to enjoy their new pool.
Advantages of Vinyl Lined Pools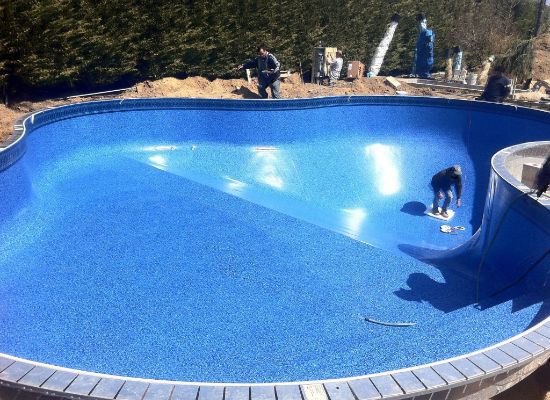 There are many advantages Vinyl Lined Pools have over the other built-in pool options. Let's have a look at some of them.
Smaller initial investment – Compared to concrete and fibreglass pools, vinyl liner pools are significantly less expensive to install.
They use fewer chemicals – When compared to traditional pools, Vinyl Lined Pools use fewer chemicals because the liner is a nonporous surface and does not absorb chemicals and there is less seepage from outside sources into the pool. Additionally, algae find it hard to adhere to pool walls.
Quick and Easy Installation – Vinyl Lined Pools can be installed in a few weeks which is a lot less than building a Gunite Pool.
Vinyl Lined Pools are Durable – Often Vinyl pools are considered high maintenance due to vinyl liners that will need replacement but a well-maintained vinyl liner will last for 15-20 years.
Vinyl Lined Pools are Non-Abrasive – Vinyl-lined pools are very comfortable because the liners are non-abrasive.
Great Warranties – Our partners offer great warranties when installing a new Vinyl Pool or getting a new Liner made for your current Pool.
New Vinyl Pool Liners for Sale
Is your pool liner getting long in the tooth? Do not worry. Our partners offer a wide range of new pool Liners for sale. They can do on-site measurements and fabricate new liners accordingly. It takes no more than a day or two for the installation of the new Vinyl Liners.
Advantages of using a Swimming Pools Pros partner.
It can be difficult to choose the best Poop company when installing a new pool. Swimming Pool Pros helps you eliminate the stress of choosing the best contractor by screening regional providers. Working with a partner from Swimming Pools pros has several benefits:
Only vetted Pool companies
Customer Satisfaction is of high priority
Custom designs to suit your needs and property.
Experienced Vinyl, Lined pool Builders, with many years of experience
Transparent warranties giving you peace of mind
Easy-to-read contracts with no small print
The best Vinyl Pools at a competitive rate.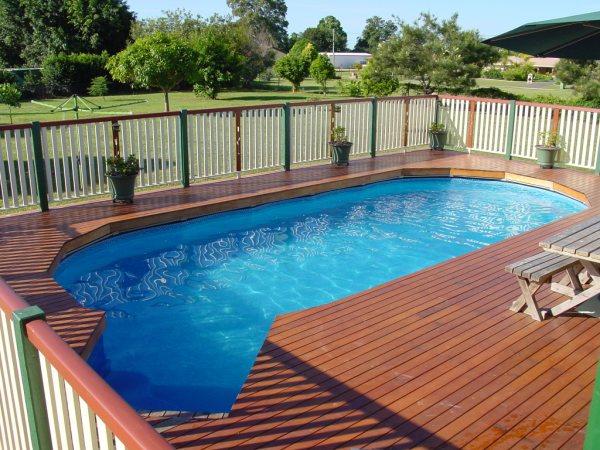 Take the guesswork out of choosing a pool company by selecting a Swimming Pool Pros partner for your new pool installation.
How much does a Vinyl Lined Pool cost to install?
Vinyl Pools have the lowest investment compared to the other built-in pool options. A Vinyl Lined Pool installation can cost from R70000.00 – R120000+ depending on the size, design, and location of the pool installation. 
For more info on the cost of a Pool Installation please visit our Swimming Pool Prices page or complete our online form for a quote from your leading local Vinyl Lined Pool Installer.