Fiberglass Pool Installers
Are you thinking of installing a new family pool in your backyard? Then you already probably know there are 3 major options for in-ground pools.
Fibreglass pools are a great option for your new family pool. Fibreglass pools are growing in popularity year after year because of the numerous advantages they have over other built-in pool options.
Quick installation taking less than 2 weeks to complete a project
Fibreglass Pools are Durable and will last for a long time when installed correctly
Lower lifetime cost compared to any other pool
These are just some of the advantages of a Fiberglass pool and in this article, we will discuss why a fibreglass pool is a great option for your new family pool. If you are thinking of installing a new Fiberglass Pool contact Swimming Pool Pros today and we will connect you with a vetted Fiberglass Pool installer in your area.
Fiberglass pool installation procedure step by step
Let's quickly go over the steps of installing a Fiberglass Pool:
Site excavation – Once the pool has been approved by the Local Municipality work can start on the excavation process. The site will be excavated about 10cm deeper and about 30cm wider than the Fiberglass Pool. This is to allow space for plumbing and backfill material.
Primary plumbing and Pool Setting – Once the hole is dug to the required size installers will lay primary plumbing, and cover it with the base material. The pool will then be lowered into the hole and Set on the prepared base material.
Completing of plumbing and electrical installation – The remainder of the plumbing, electrical, and filtration system will be installed.
Backfilling the Shell and filling the pool – The team of pool installers will then Backfill the Pool on the sides while the water level rises. The more intricate the design of the pool the longer the backfill process will take. Backfilling the pool can take from one to five days depending on the project.
First Inspection – Once we have backfilled the pool and the pool is full of water we will perform an inspection of the pool to ensure that all areas are backfilled correctly and that all plumbing and electrical installations are working correctly.
Coping and Deck installation – Once we have verified that everything is working as it should and backfilled correctly we will start with the Coping Process. Coping is the casting and installing of cement or stone ledge that surrounds the pools. Our partners will cast the Coping for better rigidity. Once the Coping has dried they will start with whatever pool surround you desire. This can be decking, normal paving or stone paving.
Clean up and Water Balancing – Once the pool surrounds are done it's time to get the pool ready for use. The team will start cleaning the area and ensure that the water is ready for your family to swim in.
Enjoy your Pool for many years to come – After cleanup, your pool is ready to enjoy.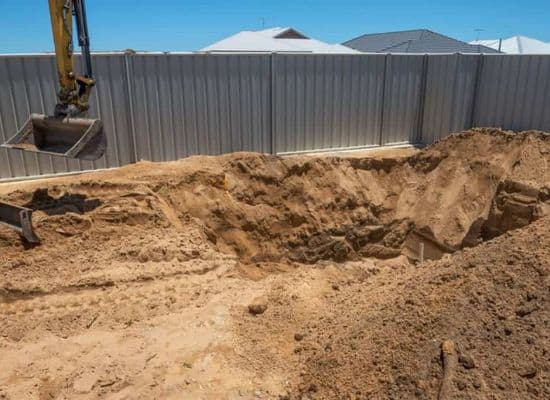 Advantages of Fiberglass Pools
There are many options when installing an inground pool. Let's have a look at why are fiberglass pools a great option.
Quick installation – The shells are premanufactured and are installed as a single piece or two pieces that are bolted together for a larger installation. That means that there is no waiting time for surfaces etc.
Fiberglass Pools are very Durable – Fiberglass pools are more robust, long-lasting, and unlikely to sustain damage. Even though vinyl pools have many advantages as well, fiberglass pools are simply less prone to be punctured. As a result, the chance of damage is reduced, and pool maintenance expenses will be lower overall.
Lower Maintenance – Swimming pools made of fiberglass are renowned for requiring little upkeep. That's in part because fiberglass offers a smooth, non-porous surface in addition to the durability already discussed. Algae commonly grow on other pools' more uneven surfaces. Customers with fiberglass pools claim to spend less time weekly cleaning and maintaining their pools, as well as requiring less maintenance in the long run.
No Liner Replacements or resurfacing – Fiberglass pools do not require a Liner to be replaced and will not require resurfacing. A simple coat of paint will be required after years of use.
Lower lifetime cost – For instance, vinyl liners are less expensive upfront than fiberglass pools. But when you take into account the reduced maintenance requirements and other advantages, fiberglass pools actually end up being less expensive to own over time.
Advantages of using a Swimming Pools Pros partner.
Selecting the right Pool company when installing a new pool can be quite a daunting task. Swimming Pool Pros takes the worry out of selecting the right contractor by vetting local contractors for you. Working with a Swimming Pools pros partner has many advantages:
Their no1 priority is Customer Satisfaction
Various designs to choose from to suit your needs
Experienced Fiberglass pool installers with many years of experience
Great warranties giving you peace of mind
Awesome post-sale service
High-quality Fiberglass Pools at a competitive rate.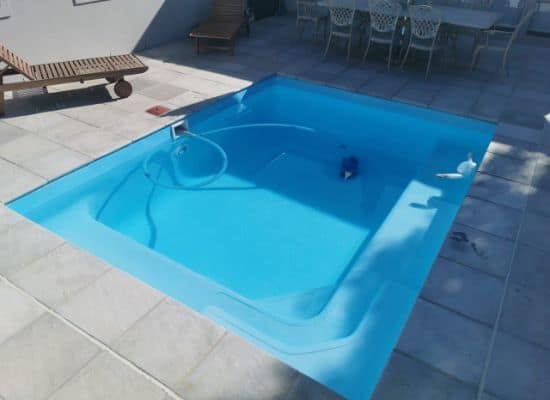 These are just some of the advantages of installing a Fiberglass Pool with one of our partners.
How much does a Fiberglass Pool cost to install?
Fiberglass Pools have the highest initial installation cost compared to other types of pools. But where Fiberglass Pools shine is in the cost of maintenance being a lot less expensive than the other pools to maintain. A Fiberglass Pool installation can cost from R90000.00 – R150000+ depending on the size, design, and location of the pool installation.
For more info on the cost of a Pool Installation please visit our Swimming Pool Prices page or complete our online form for a quote from your leading local Fiberglass Pool Installer.